Automotive
The automotive industry is undergoing huge transformation. Vehicles are changing to comply with increased regulations governing functional safety and environmental standards and to satisfy consumer preferences and expectations. Cars, once mechanical wonders, are now electronic marvels. Automakers aim to make autonomous vehicles not only viable but also safer than those operated by humans.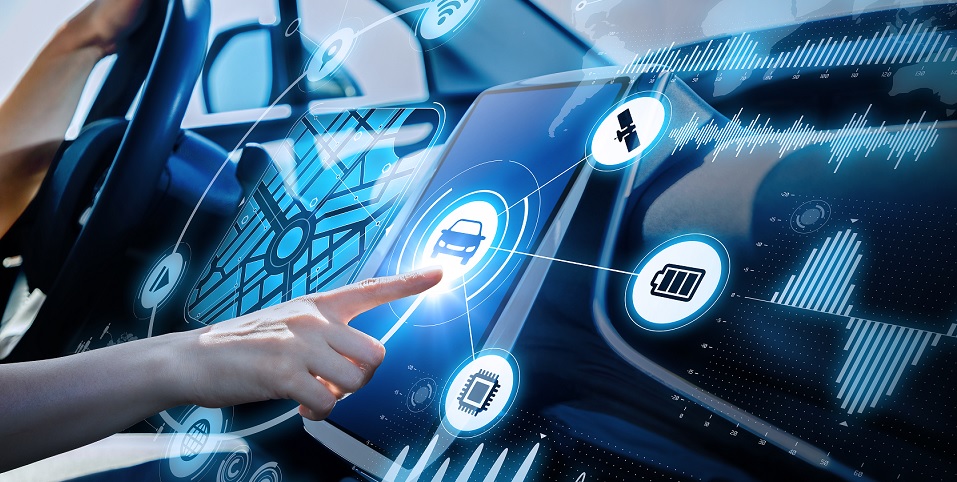 Technologies
The applications and technologies listed below are paving the way for the future of autonomous vehicles:
Advanced Driver Assistance Systems (ADAS)
In-vehicle Infotainment (IVI)/Virtual Cockpit
Sensors
Microcontrollers
Power management ICs
Display driver ICs
Assist the driver
ADAS applications include surround view, automatic parking, collision avoidance systems, autonomous driving and lane departure warning systems with embedded vision. These applications rely on sensors to provide accurate and reliable information such as pressure, temperature, motion, images and changes in force. The microcontrollers process the data collected by the sensors and manage the vehicle. Infotainment systems include interactive touch screens that use display drivers and touchscreen controllers. Embedded non-volatile memory (NVM) IP can be used in sensors, microcontrollers and displays for code storage, trimming and parameter setting
Control power
ADAS and Infotainment systems require increased in-vehicle power consumption. Power management ICs are mainly responsible for distributing and controlling power within the vehicle as well as reducing power dissipation. NVM IP can be used in power management ICs for code storage, trimming and parameter setting
Functionally safe and reliable
Functional safety is a critical factor in the design of many automotive applications. To achieve functional safety, the risk of hazards or faults caused by error or system malfunction must be mitigated or eliminated. There are two important functional safety standards for in-vehicle electrical and electronic hardware and software components – IEC61508 and ISO 26262. The two standards set high levels of product safety and are usually mandatory for automotive products.
These standards qualitatively assess the risk of hardware and systems failures and define the necessary safety features. IEC61508 defines functional safety as three levels, from SIL1 to SIL3, with SIL3 representing the highest safety level. ISO-26262 defines functional safety as four automotive safety integrity levels (ASILs) ranging from A to D. The most stringent safety level is ASIL-D. These standards use analytical methodologies such as FMEA, FTA, FMEDA…etc., to monitor the whole design and production process. Automotive system or component manufacturers use these analytical methods to comprehensively identify the level of their product safety and apply corresponding correction mechanisms.
Another key reliability standard, AEC-Q100, emphasizes the reliability of automotive ICs in the aspect of circuit design, chip fabrication, packaging and testing. The standard specifies four operating temperature grades, namely 3, 2, 1 and 0. These grades define operating ranges from -40°C to +85°C, +105°C, +125°C, and +150°C, respectively. Chip designers are required to develop products that meet these quality standards and requirements. For NVM and security IPs, HTOL (operating life) and HTDR (data retention) tests are applied to guarantee the implementation of IP is reliable in an automotive system.
Secure
Security is a key concern in the development of connected smart vehicles. The risks of a third party taking control of a vehicle and accessing the driver's personal information can be mitigated by strenghtening chip security. Security IP helps address evolving threats by providing SoC designers a random number source that can be used to create security keys for authentication and secure data transmission. NVM IP can provide secure key storage for data protection.
Explore our solutions
The demand for intelligent vehicles is propelling the growth of safe and reliable automotive SoCs. eMemory's comprehensive NVM and security IP solutions meet the required automotive reliability (AEC-Q100) standards. The company's NeoBit and NeoEE IP are certified for functional safety (ISO 26262 ASIL D) and (IEC 61508 SIL3) standards. eMemory's solutions enable SoC designers to accelerate the design, integration and qualification processes so that they can focus on helping automakers turn the concept of autonomous driving into reality.
Learn more