Physical Unclonable Function
What is Physical Unclonable Function?
Physical Unclonable Function is an inherent physically-defined "silicon fingerprint" that is generated along with uncontrollable nano-scale variations in IC manufacturing processes, performs truly chip from chip uniqueness and is hardly to be duplicated. With the excellent inborn IC fingerprint characteristic, PUF is utilized as a chip secret number nowadays by IC and system makers for various security functions like identification setting, authentication, digital signature, root of trust, and secure booting.
Traditionally, ICs' secret numbers are assigned by an outside hardware security module, HSM, in a highly secured cleanroom and stored in embedded NVMs like NeoFuse. While people change the way from outside HSM to inborn PUF, they can get rid of secure room facility maintenance cost, minimize complicated secure chip stock logistic work, but still keep the same or even better security performance.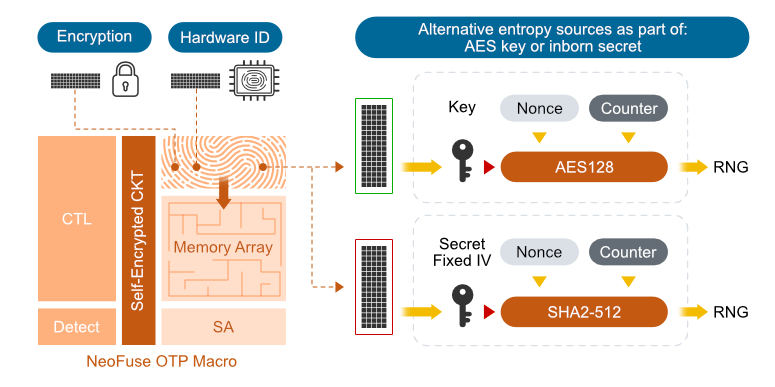 Benefits of RNG with eMemory NeoPUF IP
Ideal PUF should have specific properties to meet the highest security demand, and eMemory/PUFsecurity NeoPUF IPs family can meet all the criterions:
Easily combined with customers' original security functions like trust zone and other encryption algorithms blocks.
True randomness, hamming weight ~ 50%
Absolute chip by chip independence, normalized inter-id hamming distance ~ 50%
Immune to environmental changes such as, temperature, variations in operating conditions, and noise
Excellent operation robustness; stable and not prone to aging; normalized intra-id hamming distance ~ 0%
Inherent tamper resistance
Easily manufactured based on standard process.
Does not require additional processes in the reconstruction of the device fingerprint
Applications